Chilicat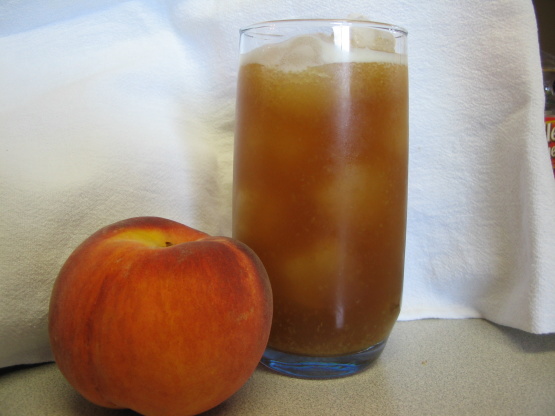 This is a refreshing fruit tea. I brew the tea in in my 3 quart Mr Coffee Iced Tea Pot. Other fruits or juices can be used too. It will probably be good as a hot tea as well.

Top Review by etc...
My family didn't care for this tea. We couldn't taste the peaches, and the 1/4 cup of sugar wasn't enough to sweeten the tea. I ended up throwing out the tea.
2

quarts brewed tea

1

(15 ounce) cancling peaches in juice

1

(15 ounce) can water
1⁄4 cup sugar (optional)
Make the tea in a 3 or 4 quart pitcher (or iced tea pot). Set aside.
Pour peaches and water into a blender.
Blend on high speed until well blended.
Add sugar and blend for a few more seconds.
Add more water until there is 1 quart.
Blend for a few seconds-- pulse.
Pour this mixture into the pitcher of tea and stir until well mixed.
Chill before serving.
Serve over ice or warm up for a hot drink.