Brenda.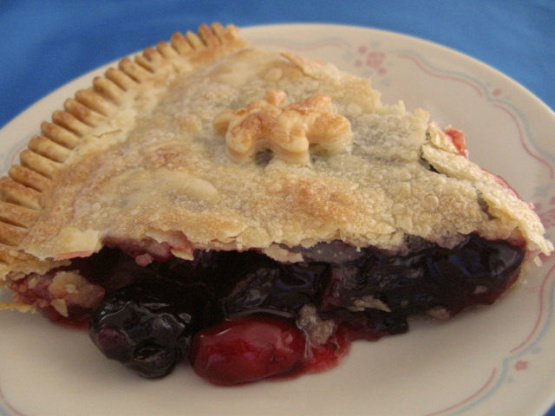 My mother-in-law found this recipe in a Better Homes and Garden and requested that I make it. I had never made a cherry pie before, but the recipe was so easy and everyone loved it! It has become a family favorite.

Yum! Delicious and easy pie. I should have taken a picture, it was beautiful, too. I don't normally use pie filling but really liked the combination of tart cherries in the filling with dark sweet cherries. Omitted the almonds though that would be delicious, too. Thanks for sharing the recipe!
Combine sugar, cornstarch, frozen dark cherries and vanilla in large bowl. Allow cherries to thaw and stir.
Line pie plate with pastry.
Distribute sliced almonds evenly on top of the crust.
Pour can of pie filling on top of almonds.
Next pour dark cherry mixture on top of filling.
Cover with second pastry.
Poke small slits on top crust.
Bake at 350 until crust is golden brown.
Mix powdered sugar and milk to create a glaze.
Distrubute over top and you are done.