PaulaG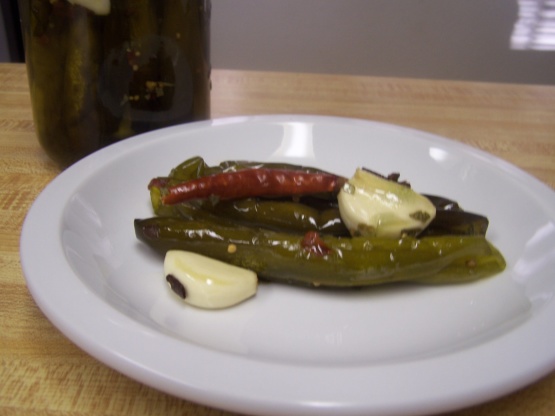 This is from The Totally Garlic Cookbook, via DIY network. So easy and so good! The size of the pickling spice is estimated.
Top Review by PaulaG
This is an interesting combination of flavors and very closely resembles a memory from my childhood. I did add a couple of medium-hot dried red peppers to the mix during the standing time. I bought whole dills which I cut in half lengthwise. The recipe does not call for processing in a water bath so I opted to store them in the refrigerator. They are at there best when very well chilled. Thanks for this interesting recipe.
Slice the pickles any way you want to and place in a large bowl.
Add the spices, garlic and sugar.
Make sure you stir it well.
It may be a little difficult to stir at first, but make sure you stir the bottom good.
Stir it once a day for three days.
Pack the sterilized canning jars with as many pickles as you like.
Fill the jars with the sweet, spicy liquid.
Leave in the garlic cloves to make sure the pickles reach their full potential.
Wipe the jars with a damp towel.
Twist on the lid and they are ready to store.
Note:.
Serving the pickles chilled will keep them nice and crisp.
These pickles make a nice gift.
Try putting them in a basket with other garlic favorites like garlic mustard, garlic chips, garlic oil, etc.
Enjoy!