Sweet Dill Cucumber Crisps
chia2160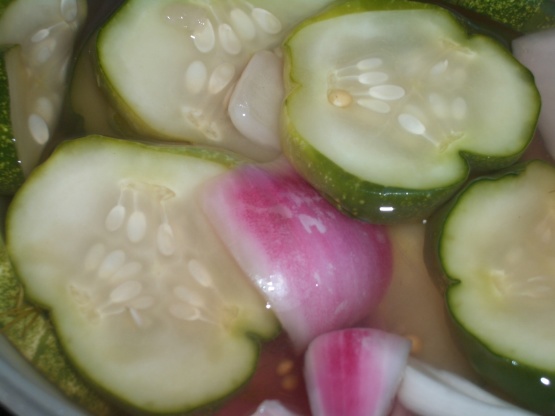 This is my favorite refrigerator pickle, which keeps up to 4 weeks, covered airtight. But...you'll find that they sure don't last that long!
Put the cucumbers, pepper, onions and salt in a quart bowl. Add very cold water to cover and soak for 2 hours.
Drain in a colander and return the vegetables to the bowl. Set aside.
Meanwhile, combine the sugar, vinegar, dill and mustard seed in a 1 quart non-aluminium pan.
Bring to a boil and simmer until the honey or sugar is dissolved, about 5 minutes.
Remove from the heat and cool to room temperature. (You can create an ice bath by filling a pan or bowl with ice and then placing your pan with the vinegar mixture on top of the ice cubes. Stir until cooled.).
Pour the cooled mixture over the cucumbers, tossing until combined well.
Spoon cucumbers into a large wide mouth jar and cover tightly, placing it in the refrigerator for at least two days before using to allow flavors to meld.