Linky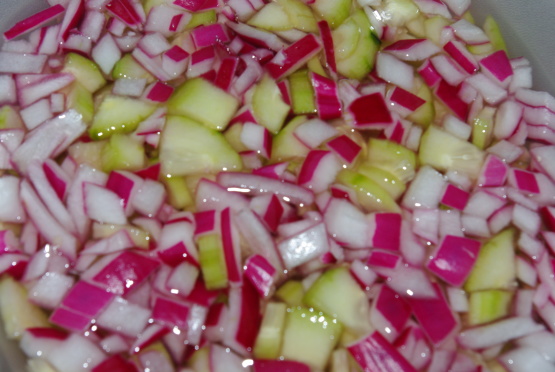 A sweet and tangy cucumber salad. Perfect for a hot summer day! If you can prepare this the night before you need it, it will be better then if you made it right beforehand. I've also made this with added tomatoes.

Top Review by Linky
This was kind of puzzling. I don't know that I would call this a salad, it was almost like a relish. Maybe I cut pieces too small. There was waaaay more liquid than necessary (and I spilled most of it on the back seat of my car bringing left overs home from a potluck at church). I would thinly slice the cukes and onions next time. And cut down on the onion and liquid. Made for Spring PAC 2012
Put water, sugar, and vinegar into small pan and bring to boil to dissolve the sugar. Turn off and let cool.
Dice the cucumber and onion.
When liquid is cool, pour over cucumber and onions and place in fridge for at least an hour.
Serve cold.