Sweet Crunchy Mustard Chicken
GaylaJ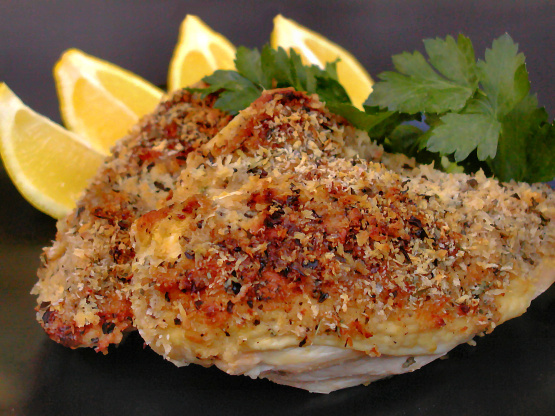 Originally from Food and Wine, 01/03, I found it posted on Cooking Light Board. Below is the review given by another poster. It has become a regular at my house and I'm always delighted when my very selective husband requests more. I make mine with bone-in, skin-on breasts and panko crumbs. You can whip together the ingredients and prep the chicken while your oven heats up. **This is one of those "Why don't I make this more often??" recipes. It's easy, delicious, uses what most of us have on hand. The chicken is tender, a little sweet, a little savory, very moist. The original calls for bone-in, skin-on breasts. I use boneless, skinless. The chicken is cooked so quickly at a high temperature that the chicken doesn't dry out. I do have to fudge a bit to get the crunchiness- which gets lost without the fatty skin: I spray the outside with cooking spray after sprinkling on the crumb mixture. Using Panko or cornmeal instead of bread crumbs would up the crunch quotient even more, I'll bet.**

This is an excellent recipe. I tried it with boneless skinless breasts and they were juicy and tasty. I also used fresh tarragon and the leftovers next day were so flavourful i didn't even bother to heat them up. Next time i plan to bump up the fiber by adding crushed all bran cereal (the unsweetened variety) to the panko crumbs. based on the nutritional facts as presented here on the site, each serving would be 5 points on the Weight Watchers Points Plus Value program. Wonderful value for a tasty meal!
Preheat the oven to 500 degrees.
In a small bowl, mix the bread crumbs, light brown sugar, tarragon or basil, kosher salt, and pepper.
Spread the mustard all over the chicken breast and sprinkle with the crumb mixture.
Set the breasts, skin side up, in a 9 x 13-inch glass or ceramic baking dish and roast in the upper third of the oven for about 25 minutes, or until they are cooked through and crisp.
Serve the chicken breasts hot, with lemon wedges.