VickyJ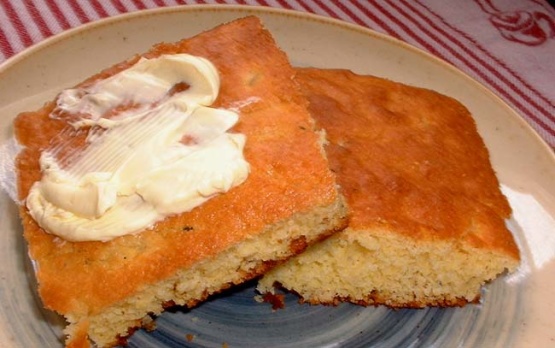 This is an adaptation of a recipe I saw in a magazine somewhere. We like our cornbread sweet and have tried many recipes before we found this one.

Outstanding Cornbread! I've tried some of the other ones on this site and this one was the best for us. We too like it sweet and it was moist and fluffy. Because we live outside the US the cornmeal here is very fine so I mixed 1/2 polenta and 1/2 cornmeal. This made 12 giant cornbread muffins for us. Can't say thank you enough!
Heat oven to 375.
Spray loaf or muffin pans.
Mix flour, cornmeal, sugar, baking powder, salt and baking soda.
Make a well in the flour and whisk in buttermilk.
Mix oil, eggs and vanilla in a small bowl and add to the flour mixture.
Whisk just until moistened.
Can add fresh or frozen blueberries if desired.
Bake at 375 for 25-30 minutes.