Sweet Corn and Black Bean Salad
teresas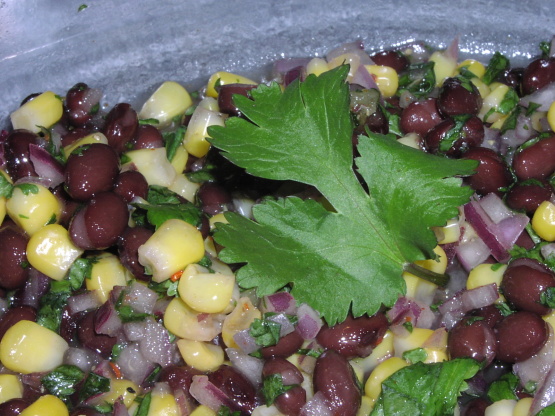 The original recipe I found on epicurious many years ago but it used black eyed peas which I don't like. It was also labeled a salsa which I suppose would be good as well but my favorite way to eat this is as a salad for lunch. I like big servings of veggies so this usually lasts me two lunches but served as a side dish I suppose it could easily serve 4.

Very, very nice tasting salad, this, & the recipe made enough for the 2 of us plus an extra one for my other half to enjoy at work the next day! I do appreciate the combo of corn & black beans, & in this recipe, the flavor of lime, honey & cilantro really jacked it up a lot! Thanks for sharing a great recipe! [Tagged & made in Please Review My Recipe]
Finely chop red onion and place in a bowl. Add corn and black beans. Coarsely chop cilantro and add to bowl.
In small bowl, mix lime juice with enough honey to take the sharpness away, season with a generous pinch of cumin. If you like spicy, spike it with a little cayenne.
Pour dressing over salsa and mix gently. Add salt and pepper to tas.