Sweet Chilli Pork in Lettuce Cups
JustJanS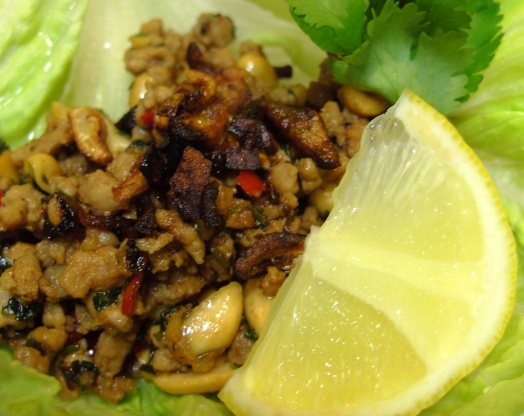 My 'zaar buddy Terese found this for me in Australian Women's Day. Thanks Terese!

Delicious , but not for the faint of heart! 1/3 C fish sauce makes for very pungent smell while cooking. LOL and I love fish, but fish sauce is another thing. I was actually pretty shocked by the smell until it cooked down. It may work better for those who are not used to fish sauce to cut down on fish sauce in this recipe. I cooked the sauce until liquid was almost gone. What really works with this reicpe is generous squeeze of lime juice. The lime juice rounds out the taste as well as get rid of that lingering smell completely. Thank you JustJan for posting this yummy recipe. Made for Asian forum's unrated Asian reicpe tag.
Heat oil in a wok or large frying pan on high. Stir-fry pork and garlic for 4-5 minutes, breaking up lumps with the back of a spoon, until browned.
Add sugar, fish sauce and leaves. Simmer for 3-4 minutes or until thickened slightly.
Add coriander, peanuts, shallots and chilli. Stir-fry for a further 3-4 minutes.
Spoon into lettuce cups. Sprinkle with extra fried shallots. Serve with lime wedges.