Sweet Chilli Fish Parcels
IngridH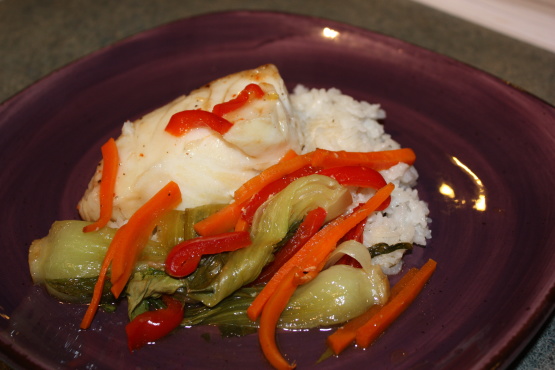 I love doing food as parcels as I feel it really locks in the flavours and this one looked inviting in Recipes+ DIY - use salmon instead of white fish (which would be my preference)

First, I have to say that this is one of the best dishes I've cooked all year. I love fish, and had the opportunity to use a beautiful sea bass for this recipe. This is one type of cooking where you really want to check for doneness with a thermometer- my fish looked raw, but temped perfectly, and when I flaked with a fork, came apart in lovely layers. The sauce was perfectly balanced between savory and sweet; and although I felt I wanted more with each bite, I think more would just have been a bit too cloying and sweet. This amount just left you wanting to cook the dish again- tomorrow! Two of these vegetables-peppers and bok choy, are among my favorites. Usually, when a dish calls for cooking carrots I leave them out- but this time I chose to leave them in for the color; and ended up liking them! Wow! All of the veggies retained some of their crispness, and all of their flavor. All of them benefited from the lovely sauce. Finally, we have the rice. I have a rice cooker, so I didn't follow the directions given, but I used the ingredients as listed; and even tough I rarely eat white rice, I scarfed down every last grain on my plate. It was a perfect match for the delicate fish and vegetables, yest the coconut milk added a richness that kept the dish from feeling too light. Overall, I loved it, and can't wait to make it again! Thanks so much for posting!
1⁄3 cup sweet chili sauce

2

tablespoons oyster sauce
1 1⁄2 teaspoons sesame oil

1

bunch bok choy (400 grams baby quartered lengthwise)

1

carrot (small cut into matchsticks)
1⁄2 capsicum (red medium thinly sliced)

4

(150 g) fish fillets (firm white)
1 1⁄4 cups jasmine rice (or long grain white)

270

ml coconut milk
coriander (sprigs to serve)
Preheat oven to 180C (160C fan forced).
Tear off 4 pieces of foil about 40cm long and place on a flat work surface and top each piece with a piece of baking paper.
Combine chilli sauce, oyster sauce and sesame oil in a small jug.
At centre of each piece of paper, place a quarter of the bok choy, carrot and capsicum and top with the fish and then drizzle with sauce mixture and then top with the ginger and fold to make a parcel.
Place seam side down on a baking tray and bake for 20 to 25 minutes or until cooked (fish will flake when tested with a fork).
Place rice in a medium saucepan and wash under cold water until water runs clear and drain.
Add coconut milk and 1 1/2 cups of water and cover with a titght fitting lid and bring to the boil, reduce hat and cook rice for 10 to 12 minutes or until liquid is alsmost absorbed.
Remove rice from the heat and stand for 5 minutes (DO NOT lift lid).
Fluff with a fork to separate grains.
Remove fish from parcels and serve with rice and top with coriander.