Sweet Chicken Skewers With a Peanut Dip
Rita1652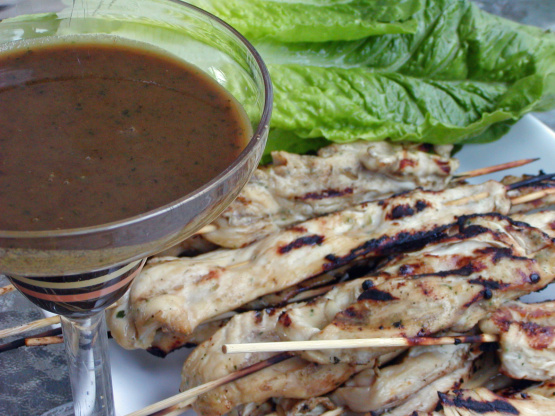 Honey, ginger, garlic, peanut butter, teriyaki and cilantro flavor these so fine that I know you'll want to try them! Be sure to soak skewers on water or apple juice for 30 minutes before skewering chicken. Serve as an appetizer, on a bed of greens or a meal.

I hate to give this a bad review, but I did not like it. It reminded me of the peanut butter and honey sandwiches i had as a kid, which was extremely off putting for me. Too sweet, not enough ginger or garlic... just couldn't get into it. If I decide to try it again, I'll use brown sugar instead of honey, use less peanut butter, and much more garlic.
Whisk all the ingredients but the chicken together.
Place chicken in a zip lock bag add just enough marinade to coat the chicken and chill for 1 hour.
Chill rest of sauce for dipping.
Skewer chicken in a ribbon method onto soaked skewers.
Grill on a well seasoned grill over med-high heat for about 7 minutes. Basting with the chicken marinade.
Serve with chilled dip and fresh sliced cucumbers!