Sweet Chicken Bacon Wraps (Paula Deen)
SharleneW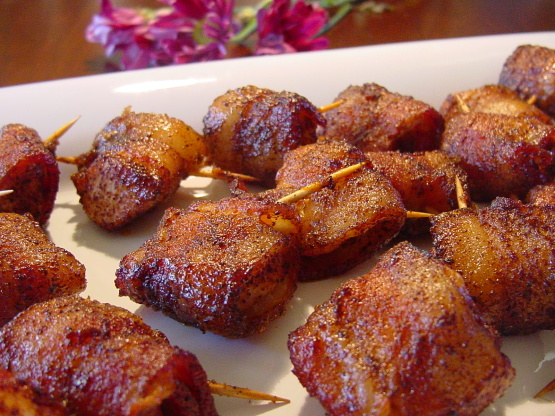 Hey you Paula Deen fans, she has a new magazine, "Cooking with Paula Deen"--this recipe is from the premier issue. It was so yummy looking, I couldn't wait to try it. I added another 15 minutes to the cooking time suggested (30-35 minutes) and It was just right, but oven temperatures vary, so check on it during the last few minutes of cooking time. I'm also going to add a few dashes of cayenne pepper next time for something hot and sweet!

I made a double batch to take to a friend's house a couple weeks back. They went fast while we were watching the football games. Only problem...... now I've been begged to make them every weekend! They were so tasty and just the right size to snack on through the day. Super tasty and not hard to make at all (just a little messy). Only tip I can give is to line your bottom broiler pan with tinfoil as clean up was a little rough. Other than that, no complaints at all. Thanks for sharing this recipe and I'm off to make another batch for the SEC championship game in about fifteen minutes! GO GAMECOCKS!
Preheat oven to 350°F.
Cut chicken breasts into 1-inch cubes.
Cut each bacon slice into thirds. Wrap each chicken cube with bacon and secure with a wooden pick inserted on the diagonal starting where bacon seam overlaps.
Stir together brown sugar and chili powder. Dredge wrapped chicken in mixture.
Coat a rack and broiler pan with non-stick cooking spray. Place chicken on rack in broiler pan.
Bake at 350°F for 30 to 35 minutes, or until bacon is crisp.