alligirl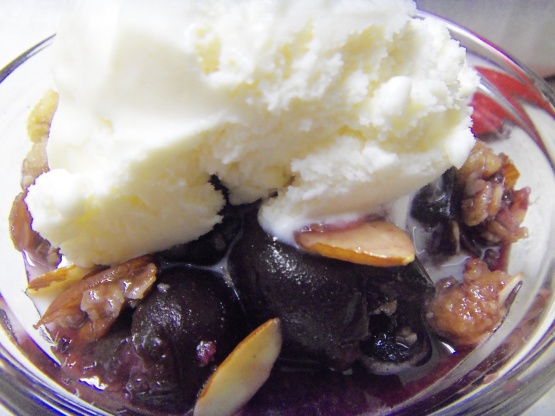 Although it has been tweaked a little, the original of this recipe was seen recently on Paula Deen's show, Paula's Best Dishes, & we found this very enjoyable. Prep time does not include the 15 minutes needed for the finished crisp to cool before serving.

Very good! I make a lot of similar fruit desserts (crisps, cobblers), and this was not only good, it exceeded my expectations. Sweet fruit base, and a buttery tasting crisp topping without tons of butter. Only change I made was to use 1/2 cup sliced almonds. Also didn't bother to thaw my frozen sweet cherries, just cooked about 5 minutes longer. Reading the other review, I would not suggest cornstarch. Whisk together the flour and sugar, then toss with the cherries for perfect results. Thanks for sharing the recipe!
Preheat the oven to 350 degrees F, then lightly grease a 13"x9" baking pan, preferably glass.
In a large bowl, whisk together the sugar & the 3 tablespoons of flour, then add the cherries & stir, tossing gently to coat before spooning the cherry mixture into the prepared pan.
In a medium bowl, combine the oats, brown sugar & the 1/4 cup of flour, then using a pastry blender, cut in the butter until mixture is crumbly.
Stir in the almonds & then sprinkle evenly over the cherry mixture.
Bake about 30 minutes or until hot & bubbly & the topping is golden brown. Remove from the oven to a wire rack & let stand 15 minutes before serving.