WiGal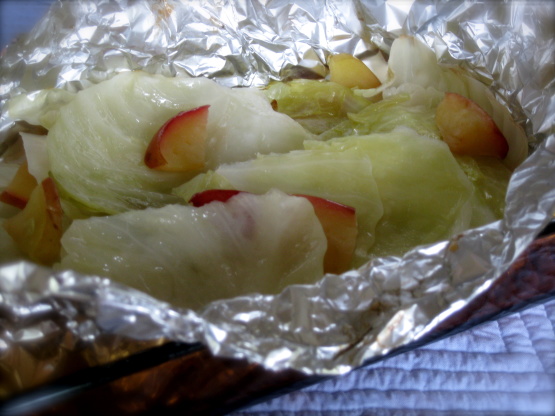 From a recipe book on 18th century frontier outpost recipes.

Top Review by WiGal
Up here in the "frontier" of northern Wisconsin, I made this in my oven not over an open flame. LOL! I reduced the recipe to half for the two of us. My cabbage slices were about an inch thick, sprayed foil, and sealed up packet. I baked for 75 minutes at 375 degrees and the cabbage was not done. Think another 15 minutes possibly are what was needed but hubby and I had places to be. Or cabbage should have been chunked instead of sliced? Next time, I would omit the butter and sub in apple juice for a healthier approach. Nyteglori, thanks for sharing a historical recipe.
Brown butter and cabbage in hot open kettle, stirring constantly.
Cover and set on a higher pot hook in the back of the hearth until cabbage is tender. (Cook over low heat).
Add chopped apple and continue cooking until apples are tender.
Serve hot.