Rita1652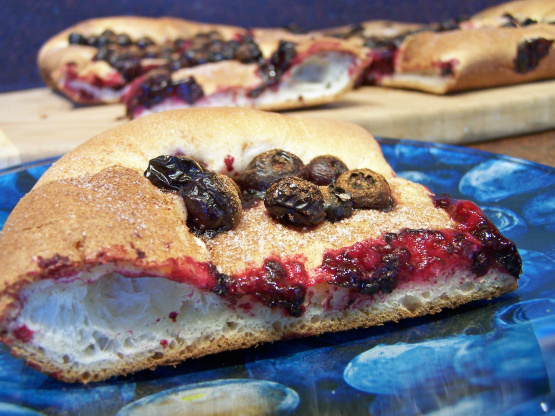 A rainy summer in Southern Ontario has had one bonus, an abundance of beautiful, plump berries. This is much better made with the big fat blueberries and not the tiny wild ones as they tend to scorch. It's a perfect mid afternoon snack and leftovers (if there are any!) make a quick and yummy breakfast.
combine flour, sugar, yeast and salt in a large bowl.
Add water and olive oil and mix into a soft dough.
Turn dough onto a floured surface and knead by hand for 8 minutes or until the dough is smooth. Alternately you can use a mixer with a dough hook to mix and knead the dough. Knead it on med speed for approx 5 minutes.
Form dough into a ball, lightly oil and place in a bowl. Cover with plastic wrap and let rise in a warm spot for one hour or until doubled in size.
Punch down the dough. Knead a few times and gently roll it out to an 8 by 11 inch rectangle (should be approx 3/4" thick).
Carefully transfer the dough to a piece of baking parchment, cover and let rise for another 30 minutes.
Heat oven to 425°F If you have a suitable size pizza stone, place it in the oven when you turn it on and allow the stone to get nice and hot (if you are using a regular metal baking sheet do not preheat it!).
When dough has finished it's second rise, dimple the surface with you finger and cover the top with blueberries. Gently press them into good contact with the dough (some may still roll off in the oven). Lightly sprinkle the surface with powdered cinnamon and sugar.
carefully transfer the parchment and dough onto the pizza stone in the oven (or a baking sheet) bake on the middle rack for 15 - 20 minutes. Bread is done when nicely golden in colour and has a firm springy feel in the middle.
Cool on a rack for 5-10 minutes. If you like, brush or drizzle some melted butter on the warm bread and sprinkle with a bit more sugar.
Slice. Serve. Enjoy!