MoChile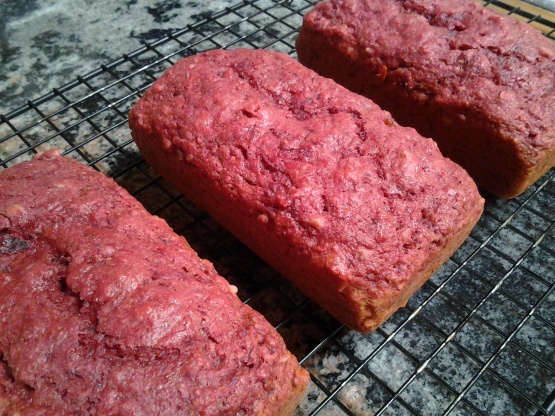 I came up with this recipe as a way to use the fresh beets I get in my CSA box. It tastes just like zucchini bread to me, but it's a pretty pink color because of the beets.

I have never liked beets. They taste like dirt to me. I tried this recipe to see if I could find a way to make beets taste good. The bread came out a beautiful pink color and was very moist. When I ate the bread plain, I could taste the beets a little. If I put a spread on the bread, I couldn't taste the beets at all. I might try boiling the beets first next time to see if that reduces some of the earthy flavor.
Grease a loaf pan (9 x 5 x 3 or 8 x 4 x 2) and set it aside.
Combine the dry ingredients in a bowl (except the nuts).
In a separate bowl, beat the egg and add the beet, oil, orange juice, and applesauce.
Add the wet ingredients to the dry all at once and mix until they are just combined.
Fold in the chopped nuts.
Pour the mixture into a prepared loaf pan.
Bake in a preheated oven at 350 for 55-60 minutes or until a toothpick inserted near the center comes out clean.