Swirling F.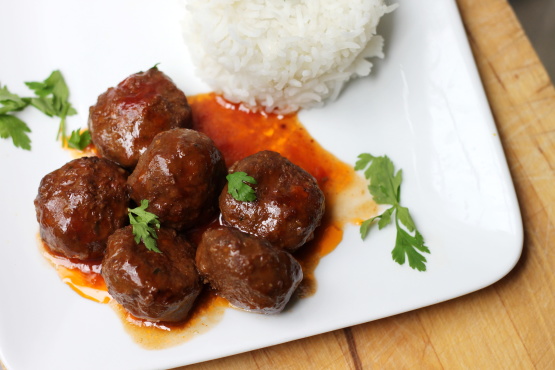 I know tons of people that make this for parties and get-togethers and they are always a hit because they are so good and easy! I wanted to make this to, so between internet searching and my sister-in-law this is what I came up with. My sister-in-law said she adds water but I like the sauce to be thicker, so this can be up to you. Since it is going into the slow cooker, it is going to loosen up as it cooks anyways. Note: Everything will fit into a 2 quart slow cooker.

Made these meatballs using 1 lb. store bought frozen meatballs, plus 1-1/4 lbs. of frozen home-made meatballs. The bbq sauce I used in this recipe was, Sweet Baby Rays Sweet 'N Spicy, plus I used Welch's Concord Grape Jam. I cooked the meatballs for 2 hrs & 20 minutes, and served them with some mashed taters and brussel sprouts. When I reheated the leftover meatballs, I added a pinch of dried red pepper flakes to them, and they tasted great!
907.18

g bag frozen meatballs

255.14

g jar grape jelly

510.29

g bottlespicy barbecue sauce
Combine the barbecue sauce and grape jelly into the slow cooker and then add the meatballs.
Cook the mixture on high for 2 – 2 ½ hours until completely cooked through.