Sweet Baby Ray's Crockpot Chicken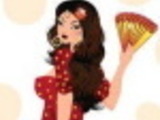 Adapted from Parga's Junkyard
Directions
Mix everything but chicken.
Place chicken in crockpot (frozen is ok).
Pour sauce mixture over chicken.
Cook on low 4-6 hours.
Broil if desired.
Reviews
Most Helpful
This is one our family favorites. The end result is beautiful And tasty!
I love the flavor but at 6 hrs, it burns every time. What am I doing wrong?
My family loves this! I double it now, my son eats all of it!