momaphet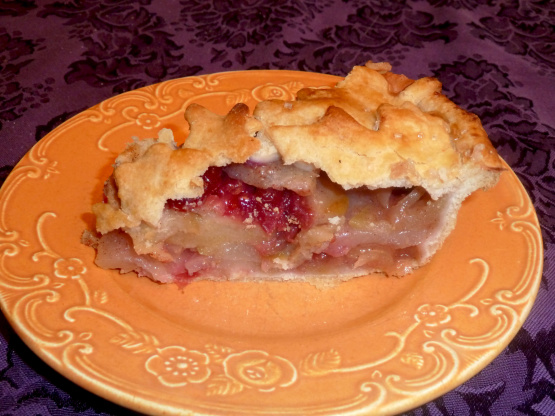 Apples, pears and cranberries are what bring the special autumn flavor to this delectable pie. Serve with ice cream for the ultimate finale to your special meal.
This is a fabulous pie! The flavor combination is wonderful, perfect with Syrah, champagne and tea (not at the same time)! I increased the cranberries almost 1/4 cup and decreased the sugar by 1/4 cup and increased the cinnamon just a little. The pie was a little tart, but for us it was perfect served with vanilla ice cream and/or whipped creamed. The two challanges I ran into - first I had to wait almost two weeks from when I bought my pears to when they ripe enough to use - they were still not as ripe as you would want if eating them out of hand. So planning ahead is necessary. Second - I increased my crust recipe by 1/4, this wasn't near enough to do the leaf cut outs without having to reroll part of the pastry, which due to time limits I had to do, resulting in part of my crust being tougher then the rest. Next time I would either skip the all over leaf cut out crust and just add a couple to decorate a regular top crust or increase my crust recipe by at least half. Thanks Jackie for a lovely new pie recipe which I will definetly make again. Made for PRMRT.
Preheat oven to 425 degrees Fahrenheit.
Place jellyroll pan on lower oven rack.
Fit bottom crust into 9" pie pan.
Flute; refrigerate.
Roll out top crush to 1/4" thickness.
Using a leaf-shaped cutter, cut out pastry leaves.
Mix apples, pears, cranberries, 1-1/4 cups sugar, flour, lemon juice and cinnamon; spoon into crust.
Brush crust edges with egg.
Arrange leaf cutouts over filling, overlapping slightly.
Brush with egg; sprinkle with remaining sugar.
Place pan on hot baking sheet in oven.
Bake 10 minutes.
Reduce oven temperature to 350 degrees Fahrenheit.
Bake 1 hour or until golden.
Cool on rack.