Sweet and White Potatoes With Cilantro Cream
FolkDiva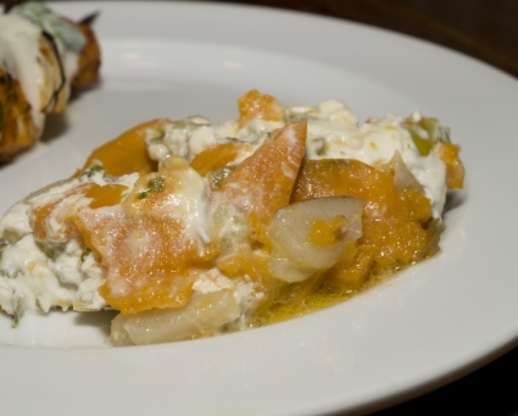 I love the combination of the two kinds of potatoes and the sour cream with cilantro makes it so fresh tasting. A great summer recipe. And it is so easy and quick to make. A friend of mine made it a while ago. I think she found the recipe in a cookbook, but I have no idea which one. This is now one of my favorite side dishes and my kids love it too.
Preheat oven to 400°F; grease baking dish (11x7x1 1/2 inches).
Peel potatoes. Cut into 1/4 inch slices. Spread potatoes in baking dish.
Drizzle with butter and sprinkle with salt. Stir to coat.
Cover and bake 45 minutes or until tender.
Mix remaining ingredients. Spoon sour cream mixture over potatoes. Bake uncovered 5 minutes.
Tips: The original recipe called for margarine but I prefer butter. I usually leave out the chives but it still tastes delicious. Instead of a fresh chili you can use a 4oz can of green chilies (drained). Sometimes I double the sour cream mixture because we love it so much.