Sweet and Tangy Flank Steak (Oamc or Make Ahead)
Nimz1466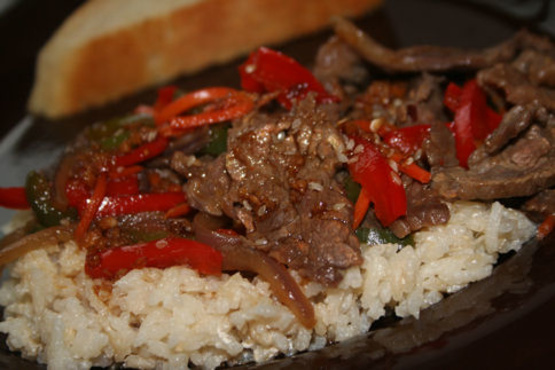 This recipe is from Super Suppers, the franchise that allows families to prepare meals ahead of time in their central kitchen. They do the prep, you do the assembly for quick dinners from the freezer. I love flank steak and this sweet/spicy combination appealed to me. The addition of pepper is mine and the way I like this dish.

Top Review by Nasseh
I made this using beef stew meat. I simmered the beef in the marinade for about 40 minutes then served over rice. Very easy & tasty. Made for Zaar Stars
Mix together all ingredients except steak together in a bowl. Fold steak into thirds, placing outer edges towards the center. Place steak into a resealable freezer bag. Add marinade and squish around so that all of the steak surface is covered. Place into a second bag, seal and label.
Freeze steak for up to 2 month. To prepare, remove 2 days ahead and defrost in the fridge.
To prepare, pre-heat grill or broiler. Remove steak from bag and pour sauce into a small sauce pan. Bring sauce to a boil and simmer for 5 minutes.
Grill or broil steak for 5 minutes per side or until steak reaches 135 degrees. Remove steak from heat and allow to rest for 5 minutes before slicing.
To serve, thinly slice steak across the grain and spoon a bit of sauce on top.
(if you are not preparing this as a make ahead meal, marinade meat for 2 to 4 hours before cooking.).