lazyme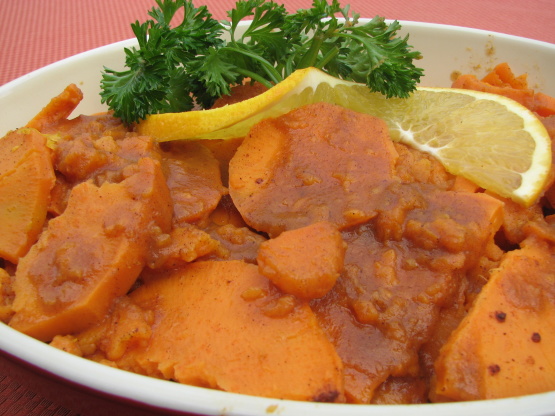 Great with ham anytime and a natural for the holidays.

This was so simple to prepare - I found they only needed 15 minutes cooking time. Once it was all together I decided to mash it and threw in a bit of earth balance. Very tasty and low fat/low cal to boot. I may have used slightly less sugar as I thought the OJ was sweetness enough for our tastes. Thanks Annacia, I'm sure I'll be making this again and I bet the leftovers fried up will be delicious too! Veg*n Swap Apr10
4

medium yams, peeled and sliced
1⁄2 teaspoon orange peel, finely shredded
1⁄2 cup orange juice

1

tablespoon brown sugar
1⁄4 teaspoon salt
1⁄2 teaspoon cinnamon
1⁄8 teaspoon allspice
In a large skillet, bring 1" of water to a boil.
Add yams.
Cover and simmer for 15 minutes or until they are tender.
Drain.
In a small bowl, mix orange peel, orange juice, brown sugar, salt, cinnamon and allspice.
Pour over yams in skillet.
Cook and stir until bubbly.
Simmer, uncovered, for 5 minutes, spooning sauce over potatoes occasionally to make a glaze.