Sweet and Spicy Shrimp Kabobs
TasteTester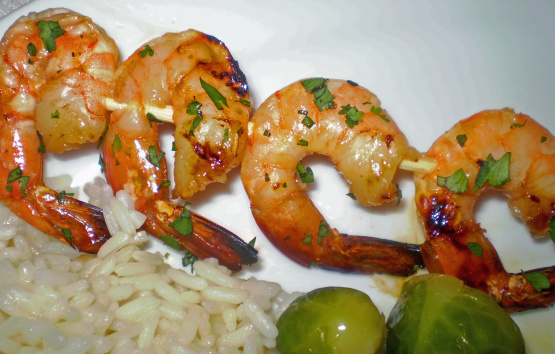 Chipotles give a zippy flavor Honey giving it a sweetness making it a perfect finger licking food for entertaining. Tweeked from Weber. Serve as an appetizer or over rice for a main meal. I served this with Lime Cayenne mayonnaise Lime Cayenne Mayonnaise. It went great with it!
In the words of my daughter "Mom, you are killing it with these shrimp!" Yes -- I did that! I grilled the shrimp on skewers (first time to grill this year) and they were restaurant perfect! The spice factor might be a bit higher than I would like - so I did cut the chile in adobe in half. A little bit of that stuff goes along ways! But the flavor - was amazing. I let them marinate for a bit at room temperature - about 20 minutes or so. Not a shrimpy left on the plate! I'm going to pull this one out when the parents come over.
In a large bowl, combine the honey, chile pepper, garlic and salt. Add the shrimp and toss to coat. Cover and marinate at room temperature for 20 minutes or in the refrigerator for 1 hour. Remove from the marinade and discard any remaining marinade.
Thread the shrimp through the tail and head (2 or 3 per skewer) onto small metal skewers or soaked wooden skewers. Strong rosemary stems are good to use as skewers.
Grill over Direct High heat for 2 to 4 minutes, turning once halfway through grilling time. Arrange skewers on a serving dish and sprinkle with the cilantro.