PaulaG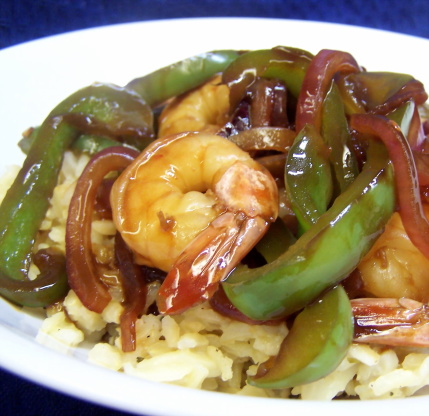 This is one of my all time favorite shrimp recipes, and I got it from Weight Watchers of all places! I have in my notes that a serving size is 4.5 oz and only 2 points. Note: I usually double the sauce and add a handful of snow peas with the vegetables

Very good! I like Chinese food with shrimp, so this was nice. I used a full 2 lbs. of shrimp (frozen and defrosted) and upped the sauce a bit. I also was able to omit the oils when I used a 12 oz bag of 3 peppers and onion frozen mix and a 12 oz bag of broccoli cuts (good tip, Indiana Debbie!). Only thing I need to do next time is add a bit more cornstarch as it was a bit runny (but I didn't measure well, I think!) I served it over brown rice.... thanks for the recipe!
Mix soy sauce, splenda, cornstarch and crushed red pepper: set aside.
Heat oil in skillet over medium-high heat.
Cook onion, and pepper in oil 2-3 minutes or until crisp-tender.
Stir in soy sauce mixture and add shrimp.
Cook 3-5 minutes or until shrimp are pink and firm and sauce is thickened.
Great served over rice (not included in points!).
ENJOY!