GaylaJ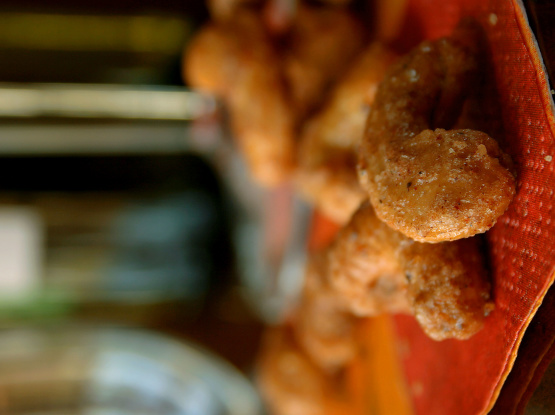 Just found this recipe in Good Housekeeping and I had to save it...and share it.

I used 2 cans of planters mixed nuts which was about 6 cups give or take a nut. I wish I had used a bit more seasoning. I would have preferred more spice. I had some a few years back at christmas as a gift from a patient and was hoping for more bite. Next time. Other wise very good and extremely easy!
Preheat oven to 325°f.
Grease two 15 1/2" x 10 1/2" jelly-roll pans.
In small bowl, stir sugar, salt, cumin, cinnamon, black pepper, and red pepper.
In large bowl, with wire whisk, beat egg white until foamy.
Stir nuts into egg white.
Add sugar mixture; toss until nuts are thoroughly coated.
Divide nut mixture between prepared jelly-roll pans, spreading evenly.
Bake nuts 25-27 minutes or until golden brown and dry, stirring twice during baking.
With slotted spoon, transfer nuts to waxed paper; spread in single layer to cool.
Store nuts in tightly covered container at rool temperature up to 1 month.