Jmq0609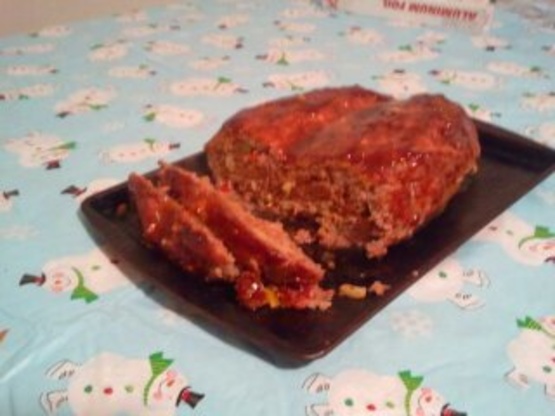 Its a Juicy Meatloaf with Spanish Seasoning and bbq sauce and a whole lot of flavor

I felt after tasting this dish that I needed to write a review because of how impressed I was with the taste. My wife made this for me the other night and from the first bite I could tell this was no ordinary meatloaf. This recipe has style, flavor and is something that all the people that you could cook this for would remember this dish for many dinner parties to come. If your looking for a awesome twist on a classic dish and want to impress perhaps a new man in your life, Ladies this is definitely a dish that would hook him and keep him coming back for more. Well thanks for reading i must be going now , I'm gonna reheat the leftovers YUM !
Preheat oven to 350 degrees.
Take Meatloaf Mix ( Veal, Hamburger, Pork) and Sage Sausage put in bowl pour White wine, Paprika, Salt, Pepper, Sazon, Sofrito, 1 Egg, Bread crumbs, Basil, Parsley, Brown sugar then cut and put Onion, Celery, Garlic, yellow and red Peppers mix together well.
Get a larger glass pan put vegetable oil on bottom.
Take meat and form it so it fits whole pan then take side of hand and make small indent in the middle of meatloaf making the sides even. Then take BBQ sauce pour on top take spoon and spread it to cover the top of meatloaf and sides.
Put in oven and cook for 35 to 40 minutes.