Sweet and Spicy Grilled Chicken With Green Onions
vrvrvr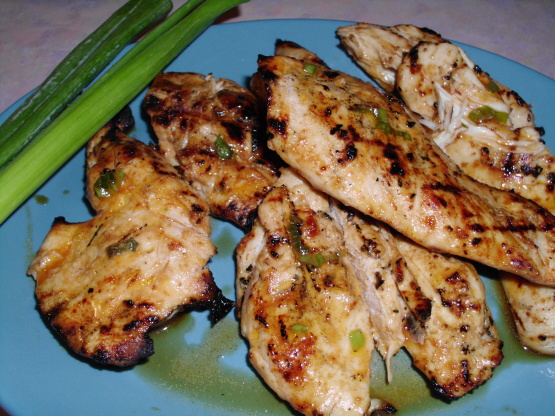 not too spicy, easy and delicious!

Top Review by vrvrvr
Wowee kazam! This was absolutely wonderful! I used enough boneless chicken breasts (cut into small portions and flattened somewhat) to serve 5. Probably about 1.5 lbs. of boneless chicken breast. I increased marinating ingredients accordingly, but not the hot sauce. We had kids to feed, so I kept the hot sauce at 1 T. while increasing (minimally) the oil and honey. It was nicely spicy but not too much. The reserved sauce to drizzle over the chicken at the end was great! This chicken went well with grilled red potatoes saturated in olive oil and fresh herbs, and sides of corn, peas and glazed baby carrots. Early summer grilling at its best! This recipe is a winner!
Whisk oil, hot sauce, honey and paprika to blend.
Mince one green onion, mix into marinade.
Transfer 2 tablespoons of the marinade into a small bowl to reserve.
Add chicken to marinade and turn to coat. Let stand 10 minutes, turning occasionally.
Sprinkle chicken and remaining green onions with salt.
Grill chicken and whole green onions until chicken is cooked through and onions soften, turning occasionally.
Transfer to a plate and drizzle with remaining marinade.