Sweet and Spicy Dry Rub on Ribs or Salmon
Rita1652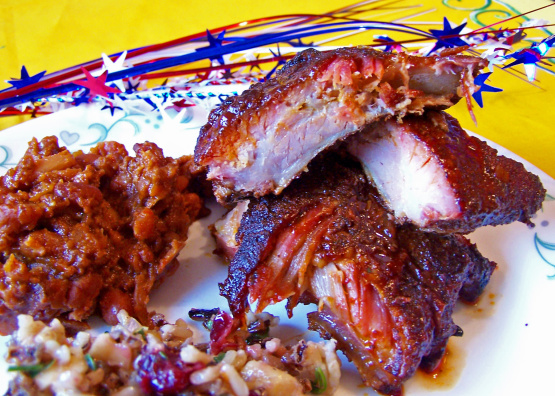 The dry rub makes 2 cups worth so jar the rest for any other meat you want to grill this summer. And yes you cook it wrapped in the plastic wrap then wrapped in foil. This is a great time saving recipe so you can be at the party your hosting. I also used it on salmon which was yummy! This has a slight Asian taste to it! Bourbon Vidalia Onion Barbecue Sauce

DH gave this a 5-star rating - and he's stingy with his 5-stars! The only change I made was adding 2 tbs crushed red peppers. I used 1/2 cup dry rub on 4 lbs bone-in chicken breasts, and it was delicious! Next time I'll try it on ribs, as suggested, but didn't have any this time.
Mix all ingredients together.
Spread 1/2 cup on 4 pounds of pork ribs.
Wrap in plastic wrap overnight then in aluminum foil. This can be baked right away as well.
Bake in 200 degree oven for 4-5 hours.
Good at this point,but I like to grill them the next day in my (Bourbon, Vadalia Onion Barbecue Sauce recipe #66477) See picture on this recipe. Check it out!
Unwrap coat with sauce recipe #66477 and grill 5 minutes on each side a little longer if chilled. Serve with extra sauce on the side.