Sweet and Spicy Candied Pecans - With a Kick
BecR2400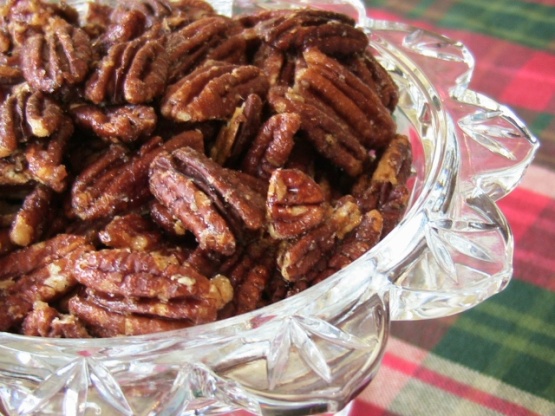 These nuts are addictive!!! Serve as a delicious snack, super-easy appetizer (great on a Ritz cracker with whipped cream cheese), topping for salads (see my Waldorf Salad Waldorf Salad With Tart Cherries, Grapes, and Candied Pecans) or in candied sweet potatoes. And, they make the perfect hostess gift especially during the Holiday Season! I make a double batch before Thanksgiving and freeze in ziplock bags for use at Christmas and New Years. The kick is up to you, as they are really very mild as written (we think they are perfect this way). Recipe was given to me by my sister, originally from Bon Appetit.

People, you've got to try these!!! BecR was right, I can't stop eating them right now. I've made them for a cocktail party this weekend. Super easy to make, I whipped out 1 double batch and 1 single batch in no time flat. Really different from a sugared pecan and the taste is great. It tastes sweet and buttery with a touch of spice. Not super spicy so if you like spicier, you could up that. Since I'm serving a mixed crowd I left it as is. Looking forward to see what the guests think on Saturday, until then I'm going to have to hide them from myself! :)
Preheat oven to 325°F Spray baking sheet with nonstick spray. Combine corn syrup and next 4 ingredients in large bowl. Stir to blend. Add pecans; stir gently to coat. Transfer to baking sheet.
Place large piece of foil on work surface. Bake pecans 5 minutes. Using fork, stir pecans to coat with melted spice mixture. Continue baking until pecans are golden and coating bubbles, about 10 minutes. Transfer to foil. Working quickly, separate nuts with fork. Cool. (Can be made 3 days ahead- store airtight at room temperature).
Makes 1 1/2 cups.
NOTE: Recipe is easily doubled, freezes well in ziplock bags.
Serve as a snack, topping for appetizers or salads (see my Waldorf Salad recipe #117914) or candied sweet potatoes, -or- give as a gift for the holidays.