alligirl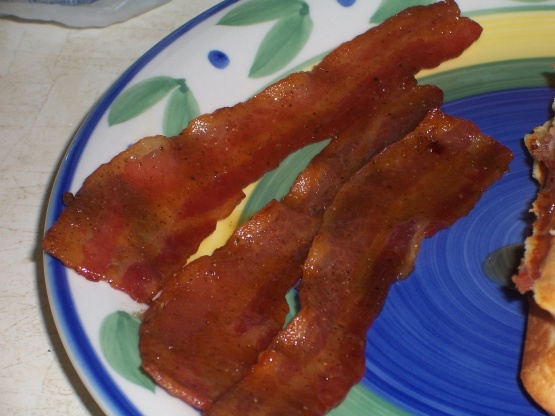 You may not have bacon any other way again! The bacon must be cooked on a rack, I use a cookie rack placed on a 15 x 10-inch baking sheet, it works well, or use a broiler pan.

WOW! I loved this; the heat is a creeper, but Oh so good! I made this on my sil-pat, baked as normal @ 400º, turned after 8 minutes and sprinkled the mixture over the pieces and returned to the oven for 8 minutes. Mine was crispier after a few minutes out of the oven, probably why you say to use a broiler pan...Thanks for another winner, Kitten; I won't save this for special occasions. It's easy enough to make anytime...
Set oven to 350 degrees.
In a small cup stir together brown sugar, cayenne and black pepper.
Arrange the bacon slices on a large broiler pan and place on the second-lowest oven rack.
Bake for 18-20 minutes.
Turn the slices over and sprinkle with spiced sugar mix.
Place back in the oven and continue baking until crisp and brown (about 15-20 minutes more).
Remove and transfer to paper towels.