Sweet and Sour Stir-Fry Shrimp With Broccoli and Red Bell Pepper
Mgnbos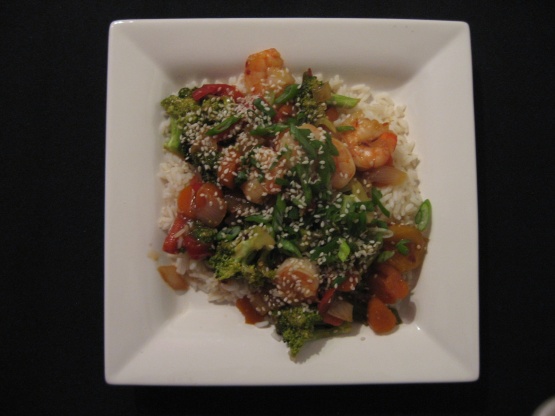 You can use 1/2 cup water in place of 1/4 cup each broth and water. This recipe will feed 3-4 people but can easily be doubled. To save some time prepare all the veggies in advance. Adjust all ingredients to taste. Serve with cooked rice.

Made half a recipe for the two of us and it was great. Loved all the veggies in it. Served with egg rolls.
In a large wok heat oil over medium-high heat.
Add in the sliced carrots, onion, red bell pepper, garlic and dryed chili flakes; stir-fry for about 3-4 minutes.
In a small bowl whisk together, water, broth, soy sauce, vinegar and brown sugar; add to the skillet; bring to a boil.
Add in uncooked shrimp and brocccoli florets, cook for about 2-3 minutes, or until the shrimp are pink in colour and the broccoli is just crisp-tender.
In a small cup whisk together cornstarch; add to the simmering sauce and cook until thickened (about 30 seconds to 1 minute).
Serve topped sesame seeds then topped chopped green onions.