Sweet and Sour Sauerkraut Kielbasa Stew
lazyme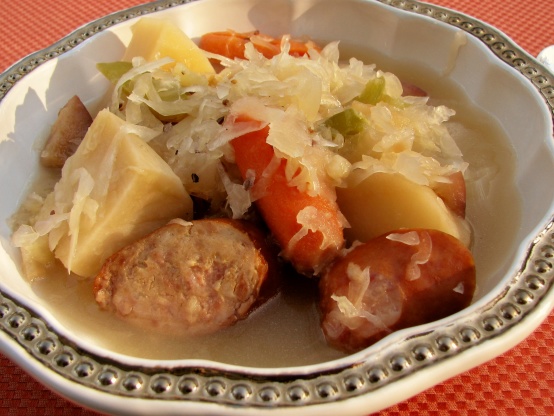 A crockpot stew that could be adapted to the stovetop..... just cover and simmer until potatoes and carrots are tender. A nice blend of sweet and sour flavors.

Top Review by lazyme
Yum!! I made this exactly as directed with kielbasa and used baby carrots. I was a little apprehensive about the pineapple, but it was a very nice addition. I cooked it on low for about 8 hours. The potatoes and carrots weren't cooked through yet so I cooked for another couple of hours the next day. I think that next time (and there will be!) I'll put the potatoes and carrots on the bottom of the crockpot and add everything else on top. Then stir it all together the last hour or so. Thanks Parsley for yet another keeper. Made for WTTM.
Place all ingredients into your slowcooker.
Stir lightly.
Place lid on and cook on low for 6-8 hours or high for about 3 1/2 hours or until your potatoes and carrots are tender.
If using stovetop, just bring everything to a boil, reduce heat, cover and simmer for about 45 minutes or until veggies are tender.