ImPat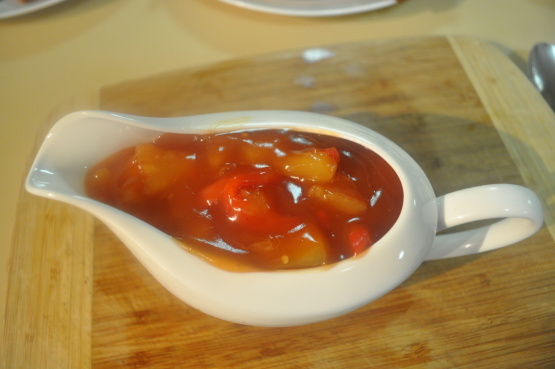 This recipe is one that I was given by my mother and have used for years. She found it in an old chinese cookbook and I have never found it since. I made a couple of changes to the original recipe, but basically it is the same one my mother has used for years for her sweet and sour pork. Serve with tempura chicken or pork as a main dish or egg rolls or crab rangoon as a dip. *Of note, the sauce is not your typical red color, it is brownish. The first time I made this, my husband and I were only married a few months and he asked "why isn't this red?" Ever since then, I add a few drops of red food coloring to bring it that red color one usually expects with sweet and sour sauce, you can omit this if you like.

Top Review by ImPat
As is yes good but we like a little kick so added a finely sliced hot thai chilli and instead of the read food colouring added a 1/4 cup of tomatoe sauce (for american ketchup but you may wish to use less as ketchup is usually sweeter than our Australian tomato sauce or use less sugar and I also drained a 225gram of pineapple pieces and top up for the juice which may have given a little more pineapple than called for). Also did not have molasses so used golden syrup and a red capsicum/pepper as that is what I had. We have had this twice, the first time I used in a sweet and chilli pork and the second over crumbed fish - a versatile sweet and sour though the first time I used only 1 chilli with seed and the second time 2 (1 with seed and 1 without) but this time the chillies where a bit too bity). Thank you heartnurse2006 for a great basic sweet and sour recipe, made for Bargain Basements.
Mix first 6 ingredients in saucepan and simmer over low heat.
Right before serving, mix the cornstarch and water.
Bring sauce to a boil and stirring constantly, pour in cornstarch mixture.
Boil for 2 minutes.
May add a few drops of red food coloring for that chinese restaurant red color.