Sweet and Sour Pork Balls
gailanng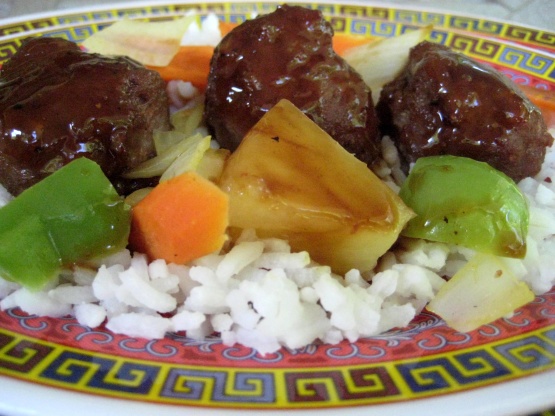 One of my daughter's fav meals.

Very tasty! The sesame oil gives the meatballs a wonderful flavor. Recipe doesnt say how much water to use with the cornstarch, I used 1 tsp.The sauce didn't need any more thickening. Thanks for posting. =)
Mix pork with sesame oil, then add cornstarch, egg and soy sauce, ensuring that each is well encorporated.
Prepare walnut-sized meatballs (keeping hands wet helps keep meat from sticking so bad) and store them on a plate.
Prepare sauce by mixing cornstarch with cold water, then adding each of dry sherry, soy sauce, tomato paste, sugar, vinegar, and the liquid from the pineapple, making sure mixture is well blended.
Heat oil in your wok and cook the meatballs until they are browned and cooked through; remove with a slotted spoon and drain.
Add the onion, green pepper, and carrots to the oil in the wok, and stir-fry until they are crisp-tender.
Briefly stir sauce before adding to pan, and bring all to a boil, stirring continuously.
Add the meatballs and the pineapple, and stir-fry for several minutes more until everything is thickened and heated through; adjust thickening with cornstarch and water to your taste, if necessary.
Serve with hot cooked rice.