Peter J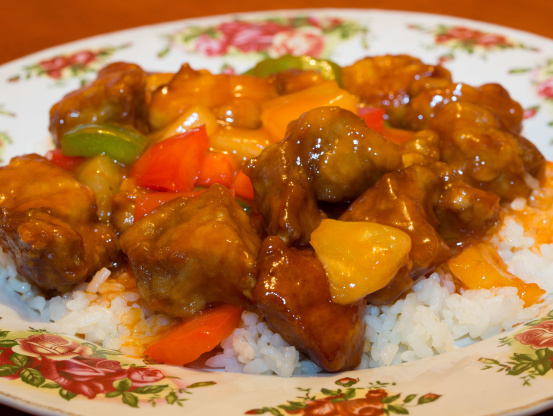 This recipe was given to my wife in Seattle by a friend. My wife told her, I don't read chinese so her daughter translated it for us. It's authentic and it's delicious. LR Beckwith

The purpose of the cornstarch in the marinade is to seal in the juices of the meat when frying or stir frying at high heat. Aside for what is already in marinade ingredients, you can also add sherry or rice wine. That is the basic marinade for any type of meat in chinese cooking. Although I did not try this recipe , I could tell that this is pretty much very close to auhtentic sweet and sour recipe. Cornstarch is also use in thickening the sauce. If I will make this recipe, I will cut down on the amount of vinegar and cornstarch that was on sauce. Also for the vegetables you can add sweet onions cut in chunks and carrots (cut thinly) plus green peppers and pineapples. Good luck to you all and happy eating.
1

lb pork tenderloin

4

slices pineapple (or 1 cup Cantonese pickles)

6

cups peanut oil (6 cups)

Marinate Pork

1⁄2 teaspoon salt (to marinate pork)
1⁄2 tablespoon soy sauce

1

tablespoon cornstarch

1

tablespoon cold water

1

egg yolk

Sauce

3

tablespoons vinegar (Seasoning Sauce)

4

tablespoons sugar

4

tablespoons tomato catsup

4

tablespoons cold water

3

teaspoons cornstarch

1

teaspoon salt

1

teaspoon sesame oil

3

tablespoons cornstarch
Pound pork with the back of a cleaver (this is to tenderize the pork), and then cut into 1-inch squares.
Soak with marinade for at least half an hour.
Cut green pepper into halves, remove seeds and membrane, and cut into 1" squares.
Next cut 4 slices of pineapple into the same size squares.
Set aside.
Heat 6 cups oil.
While oil is heating, coat each piece of pork in cornstarch.
When oil is ready, fry pork until brown and done (about 2 minutes), take out, reheat oil then fry once more until crispy.
Remove pork and drain off oil from frying pan.
Put back into frying pan 2 T.
of oil; fry the green pepper and pineapple, stirring constantly.
Add the seasoning sauce continuing to stir fry, until thickened.
Turn off the heat.
Add the pork, mix well and serve immediately.
Serve over rice!