Nimz1466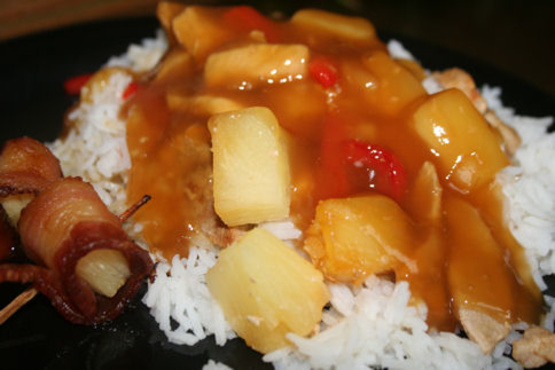 I was a very, VERY picky eater growing up. This recipe may have started me on my path to gastronomical adventures.

The sauce for this recipe is just excellent and so full of flavor. I used rice vinegar because it is not as strong as regular vinegar and I like it better in recipes like this. Flavors blended just perfect. The only reason this is not a 5 star for me is the long cooking time for the pork. It just didn't make sense to me. Next time I made this I'll brown the meat and proceed making the rest of the recipe. I saw no benefit in the long cooking time. I used chicken stock instead of the water and had to keep adding because the liquid evaporated. I used a regular skillet with a tight fitting lid. There was no temp on the electric skillet method. I will definitely add some garlic to this for extra flavor. Thanks for sharing your recipe. I'll make this again Made for PAC Spring 2010
Cut pork into strips 2 inches long and 1/2 inch wide.
Brown in hot fat.
Add water, cover and cook in an electric skillet for 1 hour.
Add pepper strips, onion slices, pineapple. Saute.
Combine brown sugar, cornstarch, salt, vinegar, pineapple juice and soy sauce.
Mix and cook until slightly thickened, stirring constantly.
Pour over hot cooked pork, cover and simmer 10 minutes.
Serve over cooked rice.
Garnish with almonds if desired.