Sweet and Sour Marinated Vegetables
VickyJ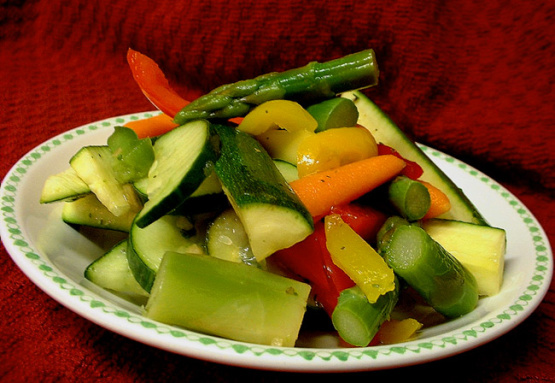 Out if this world veggie dish and low in fat if you are watching your calories. Made this for a bereavement reception for a church family. They loved it and requested the recipe. Very colorful dish and easy for a pot luck.

Easy, colorful, and tasted great! I've already made a second batch! I've made countless versions of marinated vegetables. Using a ranch packet changed the flavor into something different and tasty! I used splenda and appreciated the recipe using no oil. Thank you for sharing this keeper!
8

cups mixed assorted fresh vegetables, such as broccoli, cauliflower, zucchini, yellow squash, red bell peppers cut into 1 to 1/1/2 inch pi
1⁄3 cup distilled white vinegar
1⁄4 cup sugar (I use splenda)
1⁄4 cup water
hidden valley original ranch dressing mix
In a large bowl mix the vinegar, sugar, water and hidden ranch packet.
Place cut veggies into marinade and mix.
Refrigerate for 4 hours or overnight.