Sweet and Sour Jelly Meatballs AKA Jelly Meatballs
Julesong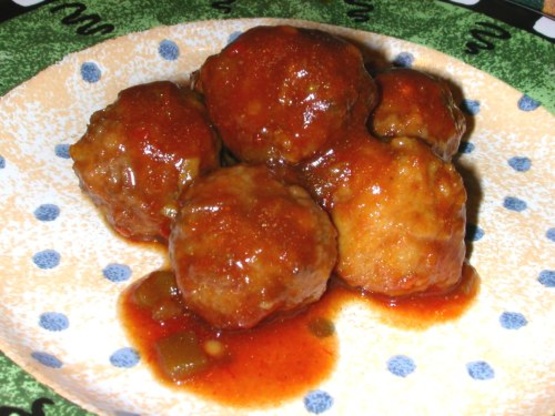 ...or Grapeballs or Those Meatball Things You Make! There are a lot of copies of this old favorite out there, and here's my version. It has a few more ingredients than the usual, but they make these tasty tidbits even more incredibly delicious!

I make these every St. Patrick's Day. They're not very Irish BUT, everyone loves them and they only last a few minutes once they're ready. Everyone always asks me for the recipe. I always send them to this site! Thanks for sharing such an easy and delicious recipe.
1

(14 ounce) jar chili sauce (like Heinz)

1

(15 ounce) can tomato sauce

1

(32 ounce) jar grape jelly

1

(7 ounce) canchopped mild green chilies ((4 ounce can can be used too, but I like 7))

3

tablespoons dried onion flakes

1

tablespoon garlic powder

1

teaspoon of your favorite curry powder, to taste
1⁄2 teaspoon dried ancho chile powder
1⁄4 teaspoon dried chipotle powder, to taste (optional)

2

lbs pre-cooked frozen meatballs (I prefer the ones from Ikea)
Put all the ingredients but meatballs into the crockpot and mix well.
Add the meatballs and stir to coat well.
Put the crockpot on low and let cook for 4 hours on low (if you use thawed meatballs, it'll only take a couple of hours in the crockpot, instead).
Serve, standing back so you don't get trampled by the rush of the crowd.
Note: We've tried other preserves and jam than grape jelly, but the sauce simply didn't taste as good; we're sticking with plain, old grape jelly from now on and will be happy with it. Also, you can use Lil Smokies or sliced smoked sausage instead of the meatballs - a lot of folks use the same sauce for either and both ways are tasty! :)
Note 2: the above makes a lot of sauce, a good deal of which will be left over when the meatballs have been eaten. I've found that having a *lot* of sauce is of real benefit when making meatballs in the crockpot - the meat remains nice and moist.