Sweet and Sour Curried Carrot
JustJanS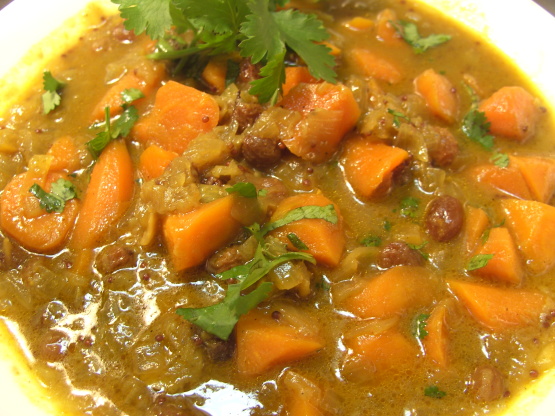 Saw this being made on a television show this morning (Alive and Cooking). My DS loves vegetables and he adores curry, so am posting here to try very soon. The carrots can be served chunky or very roughly blended with hand processor. Would be great as a side or served on its own with rice.

This is very hot with the mustard and curry powder in there (that's OK cos we like spicy). I wasn't sure if the 500ml of water should be cooked off or the ingredients fished out of it, so I chose to cook most of it off and leave some to go over rice as a sauce. I actually think this needed more lemon (at least another quarter) to make the balance of sweet and sour. I added in fresh coriander as I have heaps and decided it would work well with this dish.
In a warm pan, add the oil and fry the onions until softened.
Add the lime leaf, garlic, mustard seeds and stir for a minute.
Add the raisins and all the preserved lemon and fry for a further minute.
Add the curry powder, carrots, stock and honey and stir through and bring to the boil, place on a lid and simmer gently for 30 minutes.
When simmered remove the lime leaf. Serve curry with the carrot chunky or roughly blend with a hand blender.