Sweet and Sour Chicken Wings
AZPARZYCH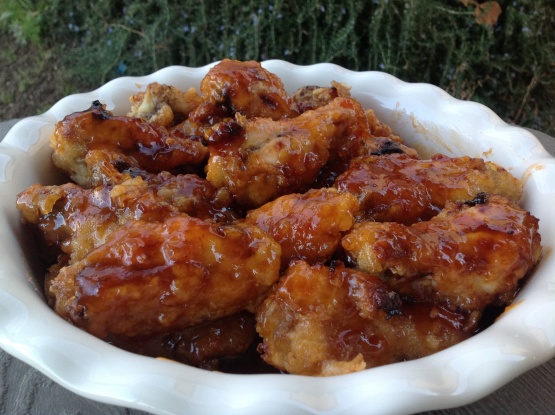 This recipe came from a group of ministers wives in Idaho about 20 years ago.

I made these for a July 4th cookout and followed the recipe as written, except that I made these in a crockpot. I prepared the chicken as you would for the oven, but I layered the wings in my oval crockpot and then poured the sauce over the wings. I cooked then on low for 8 1/2 hours and they turned out perfectly. They were a big hit at the cookout and were gone almost immediately. Made for ZWT4 Family Picks.
Heat 1/2" of oil in frying pan.
Dip chicken parts first in eggs and then in cornstarch.
Brown both sides in hot oil.
Place in single layer in large baking dish.
Heat sauce ingredients in pan until sugar and bouillon cubes have melted.
Pour sauce over chicken pieces in dish.
Bake in 375° oven for 45 min to 1 hour.
Turn over wings 1/2 way through cooking time.