Sweet and Sour Chicken (or Pork)
kentb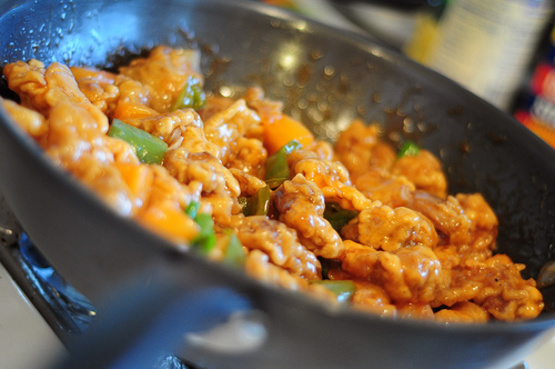 I learned this recipe from my mom and I still love it! While it does take some time to make, the outcome is just as good as take-out! You will need a Fry Daddy or a frying pan with oil in order to fry the meat. Put enough oil in the frying pan so that the meat can float to the top.

I chose this recipe because it seemed to address other folks' criticism of the more popular recipes. My husband would never eat something with a ton of sugar in it and this met his criteria. He cut the amount of ketchup to 1/3rd cup and it did not overwhelm the flavor of the sauce; he used cider vinegar and diced about 1 T. of fresh ginger into the sauce before adding it to the pan. He didn't add the cornstarch to thicken the sauce. It was good, but I think I would like the sauce thicker next time. We packed this recipe with lots of veggies. Also, very important, to keep this as healthy as possible, cook the chicken in batches in a small amount of oil in a non-stick pan. Use thigh meat instead of breast meat for the most flavorful chicken. This batter has a tempura-like texture. I highly recommend this one and I crave Chinese take-out all the time. It simply doesn't fit into our budget or a healthy diet plan.
Frying the chicken (or pork): Cut up chicken (or pork) into small pieces.
Mix breading ingredients (it will be runny).
Dip each piece of meat into the breading then place into the oil until it turns brown.
Make sure the meat has enough time to cook before removing it.
Drain the fried chicken (or pork) and set aside, or place a cover over them to keep them warm.
Sauce: Melt the margarine in a frying pan, and add the onion, green pepper and sliced carrots.
I often add other peppers or snow peas as well.
Once the veggies are cooked stir in the rest of the ingredients EXCEPT the pineapple.
Cook until it boils and add cornstarch if it is too runny.
Finally add the Pineapple for the last 5 min.
of cooking time.
Finally: Serve over rice if desired.