Pam-I-Am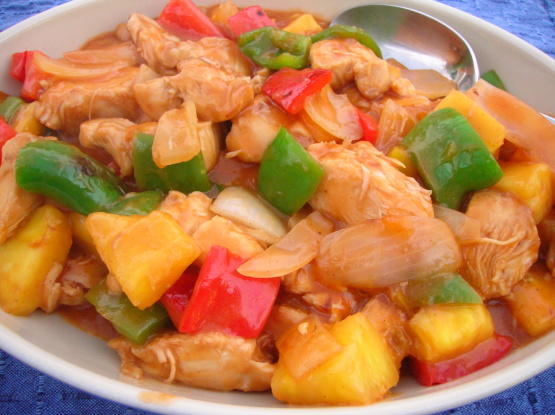 Based on a recipe from FoodTV.com, with my own improvisations

Very good! I made a small change to the preparation of the chicken - I prepared a pan with nonstick cooking spray and then rolled the cubes of chicken in a little bit of cornstarch seasoned with pepper (no salt) and then followed the recipe from there. It smelled wonderful too! Thanks for sharing!
Combine the juices, sugar, vinegar and stock in a small bowl.
Season the chicken cubes. Sauté in the vegetable oil until all pinkness is gone and the chicken is beginning to brown. Remove to a clean plate/bowl.
Add peppers and onion to sauté pan. Heat for 1-2 minutes.
Add the pineapple. Heat 1 minute.
Add the juice mixture. Simmer until sauce has reduced by a third.
Add cornstarch slurry slowly, stirring well, until sauce has a nice consistency.
Add chicken back to pan, and simmer 5 minutes.