Sweet - and - Sour Chicken
Jubes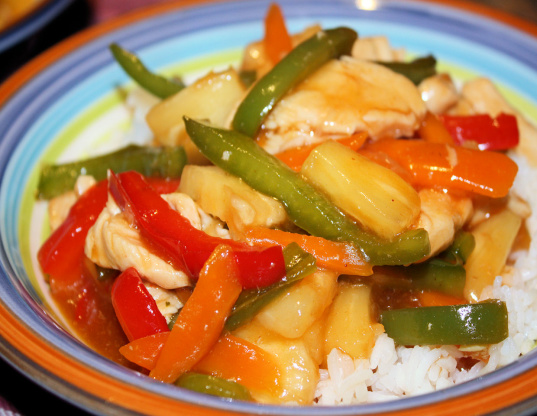 This recipe I originally found in Taste of Home. I have tweaked it a bit to suit our family's tastes. However - the sauce is true to the original recipe. I have used this recipe for a large women's group dinner (75 ladies) and there were oohs and aahs all around. Enjoy!

Sweet but not sour. I reduced the sugar to 2T, but it is missing the sour quality. It was ok.
In a bowl, combine sugar, cornstarch, pepper and pineapple juice until smooth. (*If you drain juice from tidbits and add apple or orange juice to make 6 oz - this works just as well.) Stir in the ketchup, lemon juice and soy sauce. Set aside.
In a nonstick skillet or wok, cook chicken, carrot and onion in oil (or use veg. spray - works just as well) until chicken is browned.
Add the zucchini and red and green peppers. Stir until vegetables are crisp-tender.
Pour sauce that was set aside over chicken/vegetable mixture.
Add pineapple.
Bring to a boil; cook and stir for 2 minutes or until thickened.
Serve over hot cooked rice.