Marlene.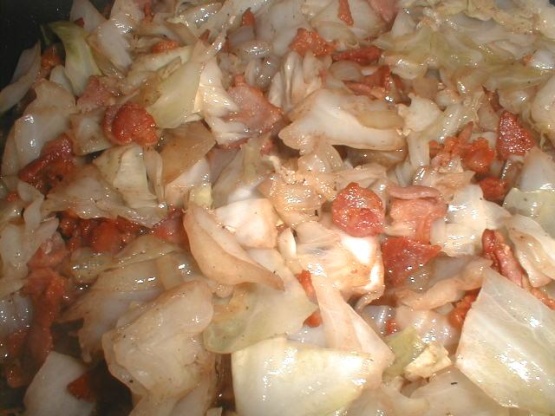 A really good way to use leftover ham.Even though it is a simple recipe I was surprised at the good taste.
This was absolutely DELICIOUS! I used bacon and balsamic vinegar. I did cut down on the boil time , thinking if I boiled it until soft, then it simmered for 1/2 hour it would be mushy... and I only simmered it for about 15 minutes BECAUSE I COULDN'T STAY OUT OF IT!! ;-) My husband (who hates cabbage) ate a cereal bowl FULL and my daughter tried it on her way out the door and said "save the rest for me" LOL This recipe was a definite HIT at my house!! Thanks for posting the recipe Dot!!
Boil cabbage in salt water until soft, drain and put into a frying pan with some butter.
Add the cut up ham or fried bacon.
Add onion, vinegar, salt, pepper and sugar.
Simmer 1/2 hour.
I added 3 slices of bacon and the rest ham.