Sweet and Sour Braised Pork Stuffed Napa Cabbage Rolls
Rita1652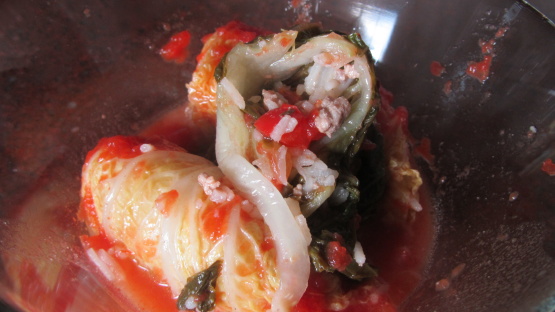 So, as much as we love Irish food (did we mention our obsession with Irish Soda bread?), we challenged Chef Ivan Flowers to deliciously incorporate our Maui Maid Teriyaki Marinade into some traditional Irish flavors. Well, he knocked it out of the park. If you use our All Natural Teriyaki Marinade, this recipe is gluten free!

Sweet and Tangy. I added 1/3 cup diced red bell peppers. I was in a rush making this and an oops happened! I added the 1/4 cup reduced sodium teriyaki to the sauce. But I did add to the filling as directed. My tarragon is just starting to grow so I didn`t have the full amount. I replaced the mascarpone cheese with home made raw milk ricotta cheese. This does make more like 8 servings. I think 1 cup of wine would have been plenty. The sauce was on the thin side. I suggest adding paste to thicken or simmer to reduce. Beef broth in place of the wine would be good. I did like using napa cabbage, just doesn't hold as much filling as white/green cabbage. I stuffed with 2-3 tablespoons of filling, stuffing 30 rolls. I was brought up eating Go??bki which has white cabbage stuffed with a lot more filling. Using beef and pork. A nice take on my family traditional eats!
Place cabbage in salted boiling water for 8 minutes with lemon juice.
Remove cool and separate into individual leafs. Make sure to slice middle ridge so the leaf is totally flat for rolling, reserve.
Heat a large sauté pan with olive oil over medium heat.
Place onions in pan and sweat for 7 minutes.
Add pork and sauté for another 10 minutes making sure to break up pork with a spoon as you sauté.
Add garlic puree and cook till garlic is caramelized.
Now add Teriyaki sauce and reduce till mixture has reduced.
Drain off excess liquid and cool mixture at room temperature.
Add cooked rice along with mascarpone cheese and chopped fresh tarragon. Combine well.
Take a tablespoon of mixture and place in cabbage leaf, roll tightly to form a cabbage burrito roll.
The Sauce.
Pulse tomatoes with the liquid in a blender for 20 seconds.
Add tomatoes to a pot along with vinegar, sugar, white wine and sweet chili sauce and reduce by 1/3.
Place cabbage rolls in a baking dish and cover with liquid by two thirds.
Cover with aluminum foil and place in a 350F degree oven for 25 minutes.
Serve in a bowl and drizzle sauce over cabbage.