Sweet and Snappy Zucchini Relish - Small Batch
ChicPeaz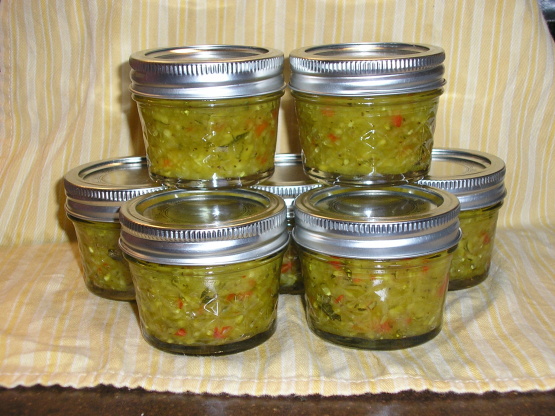 This is the best relish I have ever had. I use my food processor to chop. This is another small batch recipe. So, try it and see if you like it too.

Really simple relish, chopped everything up in my food processor. It's a little sweeter and a little heavy on the turmeric for my tastes--I think my next iteration will be half the turmeric and double the red pepper flakes for more zip.
Combine zucchini, onion and sweet pepper in a large non-reactive bowl. Sprinkle with salt, stir well. Let stand 1 hour.
Drain through a sieve, rinse and drain again, pressing out excess water.
Combine drained vegetables, sugar, vinegar, mustard, celery seed, hot pepper flakes and turmeric in a large stainless steel saucepan. Bring to a boil over high heat. Reduce heat and boil gently, uncovered until vegetables are tender - about 15 minutes.
Blend water and cornstarch; stir. Cook 5 minutes or until liquid thickens and turns clear, stirring often.
Ladle into hot, sterilized jars to within 1/2" of rim. Wipe rims, add hot lids and rings.
Process in boiling water bath 10 minutes for half-pint jars, 15 minutes for pint jars.