Sweet and Smoky Barbecue Beans
teresas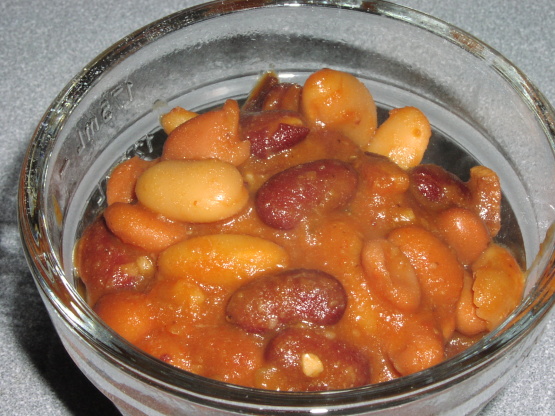 Great beans from epicurious.com. I usually add more bacon.

Great beans! Prepared in advance, these have become a staple for our camping meals and BBQs. However, I have made some modifications: instead of one cup of water, I add a cup of beef broth; substitute DARK honey for molasses (if you like real sweet, use light honey); add 2 tsp (or to taste) of liquid smoke; one tsp of smoked paprika; one 15 oz can of chopped tomatoes (mostly drained) instead of tomato sauce. As for the bacon (mmmm...bacon), I add four chopped slices of lean bacon from my local meat/sausage shop. All in all, this recipe is a great jumping off point for some inventive BBQ bean dishes.
Cook bacon in large nonstick skillet over medium heat until crisp.
Drain bacon on paper towels.
Chop bacon; reserve.
Pour off all but 2 teaspoons drippings from skillet.
Heat drippings in same skillet over medium heat.
Add onion and sauté until golden, about 5 minutes.
Add garlic; stir 1 minute.
Add tomato sauce, 1 cup water, sugar, molasses, vinegar and mustard and bring to boil.
Reduce heat and simmer 5 minutes, stirring often.
Stir in all beans and bacon and bring to boil.
Reduce heat; cover and simmer 5 minutes to blend flavors.
Uncover and simmer until mixture thickens slightly, about 5 minutes.
Season with salt and pepper.