Sweet and Savory Vegetable Stuffed Chicken
Bergy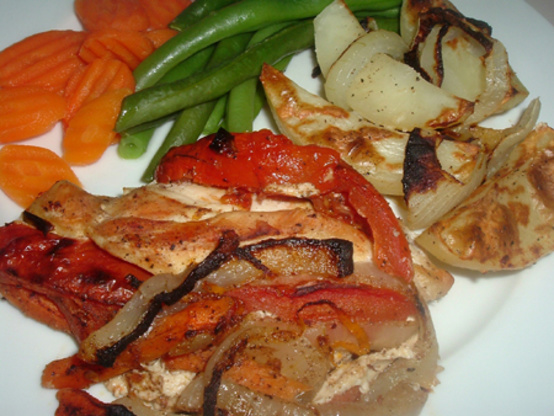 This is a recipe that comes from the lovely ingredients Tigerduck gave us for RSC #9. As a result my family enjoyed a vegetable stuffed chicken instead of stuffing with bread. A side of roasted potatoes cooked together with the chicken added to the ease of this recipe, as I am for easy peasy recipes after working all day.
This was a fairly simple recipe and quite straight forward in its directions. I did use chicken breasts and they did get a little dry, I would suggest sticking to a full chicken or bone in breast. It also took longer for the veggies to cook than I thought it would. I removed the breasts and then let the veggies finish up. All and all a good flavored recipe.
Wash chicken inside and out, discard or save innards.
In bowl mix together cinnamon, tomato, orange zest, ½ of onion slices, and baby carrots.
In fry pan melt butter and sauté above ingredients minus chicken until onions are golden or semi translucent. Onions should still be firm, slightly softened.
Stuff chicken with sautéed veggies, place in roasting pan.
Arrange potato wedges around chicken.
Place remaining onion slices on top of potatoes.
Add ½ cup water to pan.
Sprinkle salt, garlic powder and lemon pepper spice over chicken and potatoes.
Place in oven, cover with foil, cook 350°F for 75 minutes.
Check for doneness, time may need adjustment (see note).
Take foil off last 15 minutes to brown skin.
NOTE: I use a propane oven and propane burns higher than a gas or electric oven. I usually start checking at the 60 minute time when cooking and.