Sweet and Savory Quinoa Salad
sheepdoc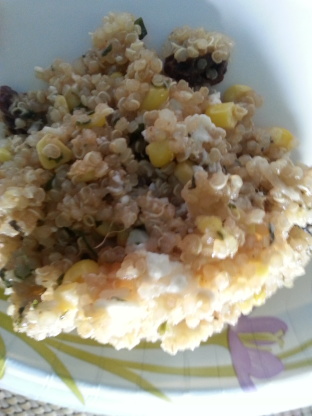 Created for Quest - South America - a combination of the ingredients I love best.

My husband said 'are there marshmallows in this'? And had it in his mouth before I said, no, that's feta cheese. I would have left the cheese out. I'm unsure about the craisins. Otherwise the mix is great. I used Newman's Own Balsamic vinaigrette. Very easy to make. Made for CQ 14.
2

cups water

1

cup organic quinoa, uncooked
1⁄3 cup scallion, chopped (light green and dark green)
1⁄3 cup fresh flat-leaf parsley, chopped
1⁄2 cup feta cheese, crumbled (or more to suit your taste)
1⁄2 cup dried cranberries (or more to suit your taste)

1

cup corn (fresh or frozen, cooked until tender in salted water)
1⁄3 cup balsamic vinaigrette (creamy style preferred)
Wash quinoa thoroughly under cool running water using a sieve. Combine 2 cups water, quinoa and bring to a boil. Cook according to package instructions or approximately 20 minutes (covered). Cook corn in salted water until tender; then drain well.
Place quinoa in a bowl and allow it to come to room temperature along with the drained corn.
Meanwhile, chop scallions and parsley - add to quinoa once it has cooled. Add feta cheese and dried cranberries. Mix well. Add balsamic vinaigrette - mix well. Add additional dressing if needed. Adjust seasoning with salt and pepper.
Allow salad to sit for at least 15 minutes to allow flavors to meld. Serve at room temperature and enjoy.