Sweet and Saucy Grilled Salmon
lazyme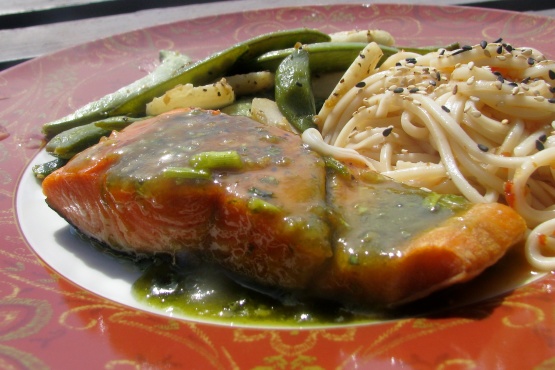 From America's Test Kitchen, with really good instructions from puppymomma's blog.

Sooo delicious! Made this wonderful salmon dish for dinner tonight and it was a hit. I made just as directed and grilled it on my indoor-outdoor grill. Will definitely make this recipe again. Made for Culinary Quest, 2014 - Pacific Northwest.
Put the jelly, scallions, cilantro, garlic, and lime zest into a food processor. Pulse the processor until the mixture is finely pureed.
Put in a small saucepan over medium heat, bubbling away for 2-3 minutes. Add to the butter and mix while it all melts into the sauce. Remove from heat and allow to cool.
Put the salmon face-down (presentation side) onto the foil. You are putting it face-down because during cooking, you will turn the fish over one time only, therefore ending-up with the pretty side face-up so you can re-glaze at the end.
Now brush the less-attractive bottom side (which is now face-up) with the sauce.
Put the aluminum foil trays with your salmon onto the grill. Cook for 6-8 minutes. Carefully flip the salmon fillets over with tongs.
With a spoon, put a thick layer of the glaze on top and let the salmon finish cooking.
Plate the salmon. Add a little more glaze on top and garnish it with lemon and cilantro.